Robotic Knee Replacement Surgery
Nowadays robotics technology has become another important tool in the doctor's kit. Many robotic techniques have been invented to make complex surgeries hassle-free and risk-free. Robotics technology has many advantages, for this reason it is becoming popular in the medical field.
Robotic Knee Replacement Surgery has emerged as a significant & innovative development in the field of orthopedic surgery. We should note that any such development or invention does not replace the need of an orthopedic surgeon.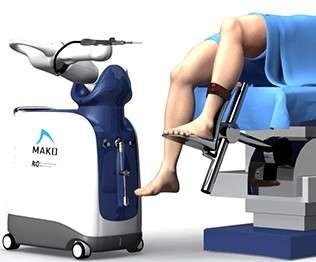 Don't think that robots will do your surgery now. Robotic surgery is not performed by an actual robot, instead, a skilled and experienced knee replacement surgeon uses a robotic surgical arm to execute parts of the procedure, assisting in areas that demand the steadiest hand and navigating small places. The robotic system operates only on the data that is programmed into it, but does not actually perform the surgery independently.
Remember that not all knee replacement surgeries can be done with robotic surgery technology.
At "Arora Clinic", we have the ULTRA-MODERN & HIGHLY SUCCESSFUL Surgical Technology Available, the name is Robotic Knee Replacement Surgery
Precision is an extremely important in Knee Replacement Surgery. THE UNMISTAKABLE ACCURACY IS A REMARKABLE FEATURE OF ROBOTIC SURGERY
Now, Robotic Knee Replacement Surgery is available at "Arora Clinic", Thane
Dr Bakul Arora is one of the Internationally Renowned, Well-Trained & Highly Experienced Knee Replacement Surgeon in Mumbai, Thane. He is an expert in performing Robotic Knee Replacement Surgeries.
Advantages of Robotic Knee Replacement Surgery
• Higher Precision
• Fully Automated Procedure
• Negligible Chances of Error
• Minimal Blood Loss
• Less Pain
• Minimal Scarring
• Faster Recovery
• More Safety
• Less Risk of Complications
SAY GOODBYE TO YOUR KNEE PAIN & ENJOY THE FREEDOM OF ACTIVE LIFESTYLE WITH OUR ULTRA-MODERN ROBOTIC KNEE REPLACEMENT SURGERY
No need to go anywhere for your knee treatment as now state-of-the-art technology is available at "Arora Clinic" in Thane
Visit "Arora Clinic" & Consult Dr Bakul Arora today