Revolutionizing Orthopedics: Exploring Robotic Partial Knee Replacement Surgery
Advancements in medical technology have led to significant breakthroughs in various fields of healthcare, and orthopedics is no exception. One such groundbreaking development is the emergence of robotic partial knee replacement surgery, which is revolutionizing the way knee surgeries are performed. This innovative approach combines the precision of robotic technology with the expertise of orthopedic surgeons to deliver better outcomes for patients suffering from knee joint disorders. In this article, we delve into the world of robotic partial knee replacement surgery, exploring its benefits, the role of a Robotic Knee Replacement Surgeon, its status in India with a focus on Mumbai, and its potential in transforming orthopedic procedures.
Robotic Partial Knee Replacement Surgery: Redefining Precision and Personalization
Orthopedics is a branch of medicine that deals with the diagnosis, treatment, and rehabilitation of musculoskeletal disorders. Knee osteoarthritis, a common orthopedic condition, often requires surgical intervention to relieve pain and restore function. Traditional knee replacement surgery involves removing the damaged portions of the knee joint and replacing them with artificial implants. However, this procedure can be invasive, leading to longer recovery times and potential complications.
Robotic partial knee replacement surgery introduces a new level of precision and personalization. By incorporating robotic assistance into the surgical process, surgeons can create a detailed 3D model of the patient's knee joint, allowing for accurate mapping of the damaged areas. This enables the surgeon to preserve healthy tissue, resulting in a more natural post-surgery feel and improved range of motion. The precise nature of robotic technology reduces the margin of error, leading to better implant alignment and potentially longer-lasting results.
The Role of a Robotic Knee Replacement Surgeon: Collaborating with Technology
A Robotic Knee Replacement Surgeon plays a pivotal role in the success of robotic partial knee replacement surgery. While technology provides the tools, it is the surgeon's expertise that guides the procedure. These surgeons undergo specialized training to operate the robotic system and interpret the real-time data it provides. They collaborate with the robot to ensure accurate bone preparation and implant placement.
Robotic Partial Knee Replacement in India
India's healthcare landscape has been witnessing rapid advancements, and robotic partial knee replacement surgery has gained prominence in the orthopedic community. With its large population and increasing prevalence of knee joint disorders, India is embracing innovative solutions to address the healthcare needs of its people.
Mumbai, often referred to as the healthcare hub of India, has been at the forefront of adopting robotic technology in orthopedics. Robotic Knee Replacement Surgery in Mumbai offers patients access to state-of-the-art facilities and skilled Robotic Knee Replacement Surgeons. The city's healthcare infrastructure, coupled with the expertise of its medical professionals, positions Mumbai as a leading destination for individuals seeking advanced orthopedic treatments.
Transforming Orthopedic Procedures: Future Potential
Robotic partial knee replacement surgery represents a significant step towards the future of orthopedics. As technology continues to evolve, we can expect further refinements in robotic systems, enhancing their capabilities and expanding their applications. Robot Assisted Total Knee Replacement Surgery, for instance, aims to address more extensive knee joint damage while retaining the benefits of robotic precision.
The potential benefits of these advancements are far-reaching. Reduced surgical invasiveness translates to quicker recovery times, shorter hospital stays, and less post-operative pain. The personalized nature of robotic procedures leads to improved patient satisfaction and long-term outcomes.
In conclusion, the field of orthopedics is undergoing a remarkable transformation with the integration of robotic technology into partial knee replacement surgery. This innovative approach, championed by skilled Robotic Knee Replacement Surgeons, offers precise and personalized solutions to patients dealing with knee joint disorders. India, with its focus on healthcare excellence, particularly in cities like Mumbai, is embracing this technological advancement. As the journey continues, the collaboration between medical expertise and robotic precision promises a future where orthopedic procedures are safer, more effective, and tailored to individual needs.
Conclusion: Embracing a New Era in Orthopedics
The integration of robotic technology into orthopedic procedures, particularly in the realm of partial knee replacement surgery, marks a significant leap forward in healthcare innovation. This fusion of precision technology and surgical expertise has the potential to redefine orthopedics and enhance the quality of life for countless patients. With the expertise of a Robotic Knee Replacement Surgeon guiding the way, patients can expect procedures that are not only technologically advanced but also tailored to their unique needs.
Mumbai, a bustling hub of healthcare excellence in India, is a prime example of how this revolution is taking shape. The city's embrace of robotic knee replacement surgery underscores its commitment to providing cutting-edge medical solutions to its residents and beyond. Dr. Bakul Arora, renowned as one of the Best Knee Replacement Surgeons in Thane and Mumbai, stands at the forefront of this transformative journey. His expertise and dedication exemplify the bridge between human proficiency and robotic precision, ensuring that patients receive the best possible care.
As technology evolves further, the horizon of possibilities broadens. The prospect of Robot Assisted Total Knee Replacement Surgery showcases the potential to address more complex cases with the same level of accuracy. With every advancement, orthopedics moves closer to a new era where surgical interventions are not just procedures but personalized experiences that restore mobility, alleviate pain, and inspire hope.
Thank You "Times Group" for felicitating Arora Clinic for "Excellence in Patient Care"
We are really honored to receive this and we will continue to serve the society better than ever We aim to provide the world-class Knee/Hip Replacement Surgical (Minimal Invasive Surgery) treatment to every patient suffering from knee or hip pain and at the same time make their life pain-free and happy.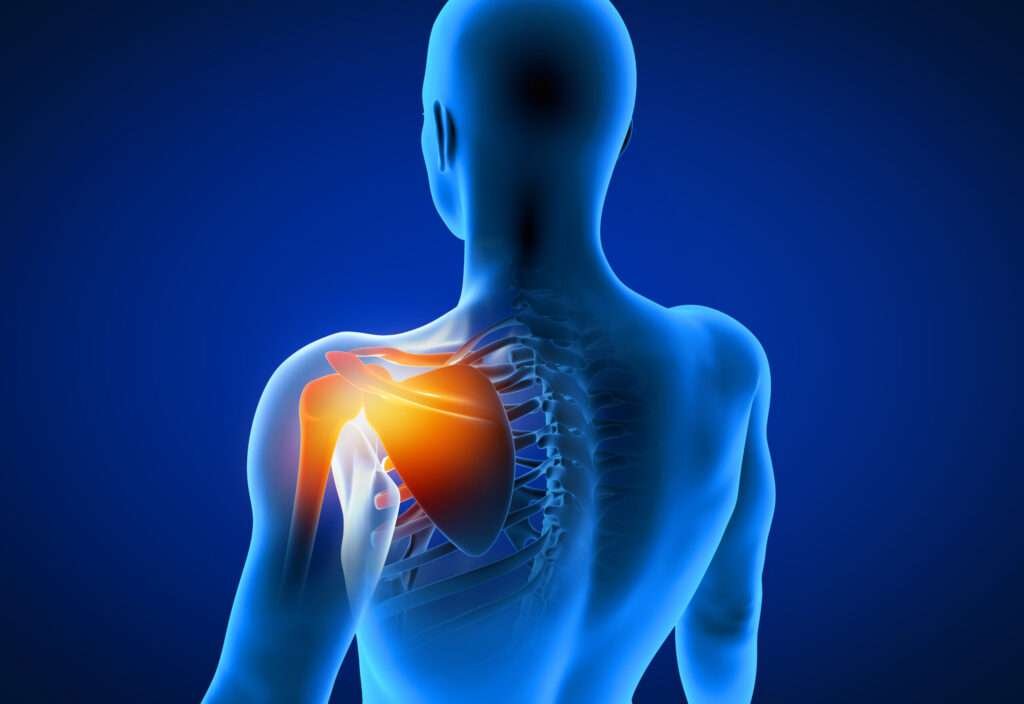 SHOULDER REPLACEMENT SURGERY
Are you looking for Best Knee Replacement Surgeon?
Then you are at Right Place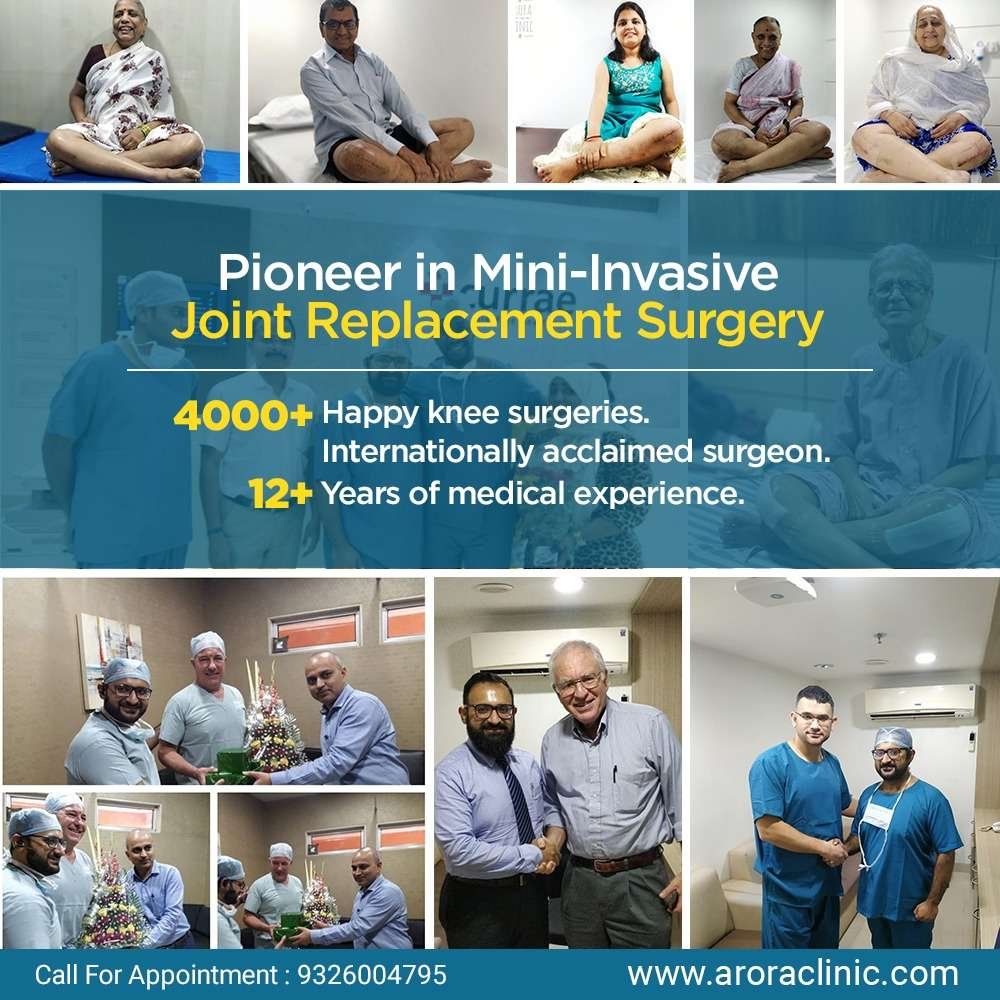 Dr. Bakul Arora's Joint Replacement Clinic is also known as "Arora Clinic" which is located at Hiranandani Meadows in Thane, within a very convenient proximity to Mumbai. Arora Clinic dedicated clinic for Knee Replacement surgery and all kinds of Orthopaedic treatments and surgeries
The Arora Clinic is one of the most advanced Orthopaedic clinic in Thane region and dedicated to providing the best, personalised healthcare with a breadth of surgical and medical expertise. Arora Clinic offers the modern surgical treatments like "Minimally Invasive Knee Replacement Surgery" which is also called as "PAIN-LESS SURGERY" for any complex knee diseases.
Dr. Bakul Arora is a Consultant Joint Replacement & Orthopaedic Surgeon is one of the leading Knee Replacement Surgeon in Thane and Mumbai with over 4000+ successfully surgeries. Dr. Bakul Arora specialises in Mini-invasive techniques which offer multiple benefits to patients. He does the surgery using Subvastus approach for Knee Replacement surgery and Direct Anterior Approach for Hip replacement Surgery . This new techniques has many advantages for patients like its pain-less , stich-less surgery, patients walks on the same day after surgery, no blood loss, faster recovery etc.
Patients Review on Arora Clinic
International Patients Videos
Before and After Knee Replacement Surgery
⇒ Wockhardt Hospital Mumbai Central, Mira road & Vashi
⇒ Apollo Spectra Hospital, Tardeo and Chembur
⇒ Cloud 9 Hospital, Malad
⇒ Criticare Hospital, Andheri
⇒ Arora Clinic, Hiranandani Meadows
⇒ Bethany Hospital, Vasant Vihar
⇒ Currae Hospital, Kapurbawdi
⇒ Horizon Hospital, Ghodbunder
⇒ Infinity Hospital, Majiwada
⇒ Lakecity Hospital, Khopat
⇒ Oscar Hospital, Majiwada
⇒ Drone Hospital, Bhiwandi