Revolutionizing Knee Care: Discover the Precision of Robotic Knee Arthroscopy Surgery
In recent years, medical technology has been rapidly advancing, transforming the landscape of healthcare and enhancing the quality of patient care. One remarkable innovation that has gained significant attention is Robotic Knee Arthroscopy Surgery. This revolutionary approach to knee care is changing the way we diagnose and treat knee conditions, offering unparalleled precision and effectiveness. In this article, we will delve into the intricacies of Robotic Knee Arthroscopy Surgery, its benefits over traditional methods, the role of a Robotic Knee Replacement Surgeon, and even explore the cost considerations associated with this cutting-edge procedure.
Understanding Robotic Knee Arthroscopy Surgery: A Leap Towards Precision
Robotic Knee Arthroscopy Surgery is a breakthrough technique that employs state-of-the-art robotic systems to perform minimally invasive procedures on the knee joint. Arthroscopy, a widely used procedure for diagnosing and treating knee problems, involves inserting a tiny camera and specialized tools through small incisions around the knee joint. With the integration of robotics, this procedure reaches an unprecedented level of accuracy, enabling surgeons to navigate and operate with exceptional precision.
Unlike traditional arthroscopic methods, where a surgeon operates manually, robotic systems enhance the surgeon's abilities by providing real-time visual feedback and assistance in controlling the instruments. This leads to improved outcomes and reduced risks associated with human error. The robotic arm used in this procedure offers a wide range of motion, replicating the natural movement of a human hand while filtering out even the slightest tremors. As a result, the delicate structures of the knee can be treated with unparalleled accuracy, minimizing tissue damage and speeding up recovery times.
Benefits Over Traditional Methods
The robotic assistance in knee arthroscopy ensures that the surgeon's movements are translated into precise and accurate actions. This high level of precision is especially crucial when working in the confined and intricate space of the knee joint.
Inherent to robotic-assisted knee arthroscopy is its minimally invasive Knee Replacement Surgery in nature, This results in reduced pain, less scarring, and quicker recovery times compared to traditional open surgeries.
Each patient's knee joint is unique, and robotic systems allow for personalized planning and execution of the procedure. This leads to better outcomes, as the treatment can be tailored to the individual's anatomy.
The robotic system's ability to filter out hand tremors and provide a stable platform for surgery significantly reduces the risk of accidental damage to surrounding tissues and structures.
The Role of a Robotic Knee Replacement Surgeon
A Robotic Knee Replacement Surgeon is a highly skilled medical professional who specializes in performing Robotic-assisted knee arthroscopy surgery. These surgeons undergo extensive training to operate the robotic systems effectively and safely. Their role involves not only performing the surgery itself but also utilizing the technology's capabilities to make real-time decisions during the procedure. This requires a deep understanding of both traditional surgical techniques and robotic technology, allowing them to optimize outcomes for each patient.
Cost of Robotic Knee Arthroscopy Surgery: Factors to Consider
It's natural to consider the financial aspect when exploring cutting-edge medical procedures like Robotic Knee Arthroscopy Surgery. The cost of this procedure can vary based on several factors, including:
1.Hospital and Facility Fees
The type of hospital or medical facility where the surgery takes place can influence the cost. Premium facilities with advanced technology and experienced staff might have higher fees.
Highly skilled Robotic Knee Replacement Surgeons often charge more due to their specialized training and experience.
The cost of medical procedures can differ significantly based on the region or country. Factors such as the local economy and healthcare infrastructure play a role.
Some insurance plans may cover a portion of the cost, depending on the type of insurance and the medical necessity of the procedure.
The overall cost might include pre-operative consultations, post-operative care, physical therapy, and other related services.
While the initial cost of Robotic Knee Arthroscopy Surgery might be higher compared to traditional methods, it's essential to consider the potential long-term benefits. Quicker recovery times, reduced complications, and improved quality of life can contribute to significant cost savings in terms of reduced hospital stays and decreased need for ongoing medical care.
Embracing the Future of Knee Care:
Robotic Knee Arthroscopy Surgery represents a significant leap forward in the field of knee care. With its unprecedented precision, minimal invasiveness, and potential for improved outcomes, patients can look forward to a new era of knee treatment. As technology continues to evolve, it's likely that Robotic Knee Arthroscopy Surgery will become more accessible and even more advanced, further enhancing its impact on patients' lives.
In the realm of modern healthcare, the evolution of medical technology has given rise to revolutionary advancements that shape the way we approach intricate procedures such as knee surgeries. Robotic Knee Arthroscopy Surgery stands as a beacon of precision, ushering in a new era of patient care. With the dexterity of a skilled surgeon and the accuracy of cutting-edge robotics, this technique, epitomized by the expertise of Dr. Bakul Arora at Arora Clinic, redefines knee care.
The journey from traditional methods to robotic-assisted procedures is a testament to human innovation. Through smaller incisions and the steady guidance of robotic arms, patients experience less pain, swifter recovery, and heightened surgical accuracy. While considering the cost implications, it's vital to comprehend the long-term benefits that emanate from reduced complications and enhanced quality of life.
As we step into the future, the partnership between skilled medical professionals like Dr. Bakul Arora and transformative technologies like Robotic Knee Arthroscopy Surgery holds the promise of alleviating discomfort, restoring mobility, and enabling individuals to embrace life more fully.
The recovery time after robotic knee arthroscopy varies depending on the individual and the specific procedure performed. In general, patients can expect to resume normal activities within a few weeks, but a comprehensive rehabilitation plan will be provided by RKRS Center, to optimize your recovery.
The cost of robotic knee surgery can vary depending on factors such as the location of the healthcare facility, the surgeon's expertise, the specific procedure performed, and any additional medical services required during the treatment. Generally, robotic knee surgery may be more expensive than traditional knee surgeries due to the advanced technology involved. It is essential to consult with RKRS Center, or the medical team to obtain an accurate cost estimate tailored to your individual needs and circumstances.
The success rate of robotic knee replacement is generally high, as it offers several benefits over traditional knee replacement procedures. Robotic technology allows for precise planning and execution of the surgery, resulting in improved alignment and positioning of the artificial joint. This can lead to better outcomes, reduced complications, and enhanced long-term function. However, the success rate may vary depending on individual factors, such as the patient's overall health and adherence to post-operative rehabilitation. RKRS Center, can provide more specific information based on your unique case during a consultation.
Thank You "Times Group" for felicitating Arora Clinic for "Excellence in Patient Care"
We are really honored to receive this and we will continue to serve the society better than ever We aim to provide the world-class Knee/Hip Replacement Surgical (Minimal Invasive Surgery) treatment to every patient suffering from knee or hip pain and at the same time make their life pain-free and happy.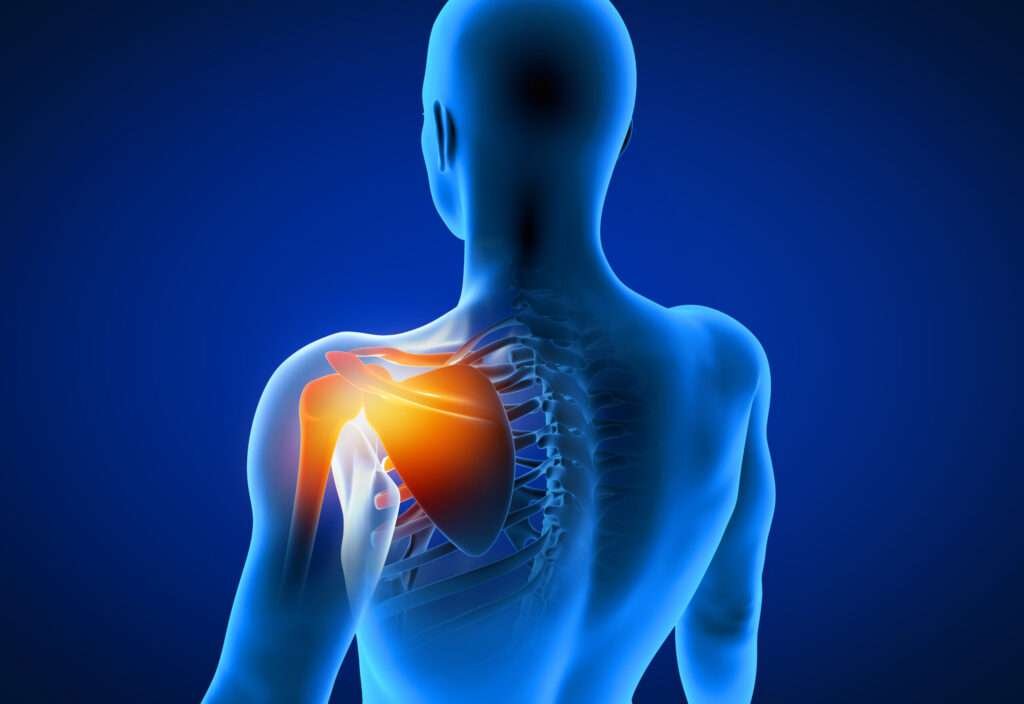 SHOULDER REPLACEMENT SURGERY
Are you looking for Best Knee Replacement Surgeon?
Then you are at Right Place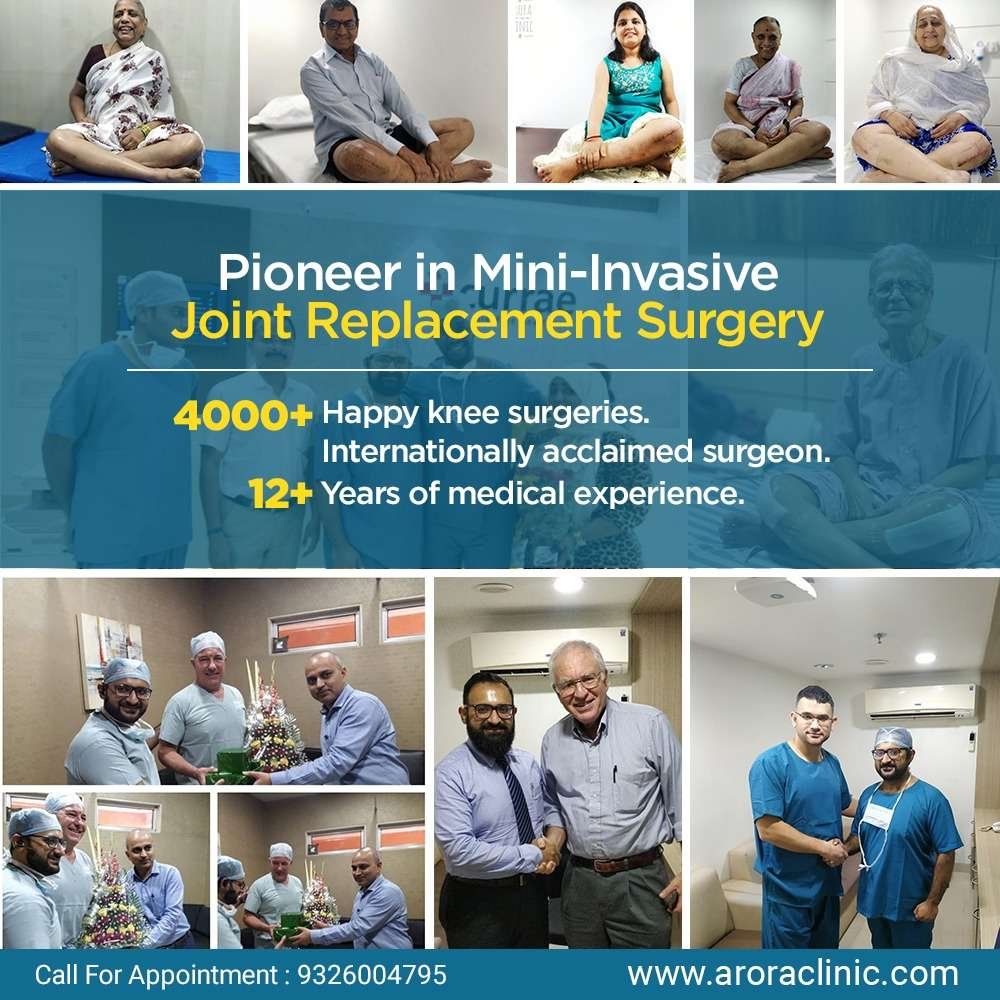 Dr. Bakul Arora's Joint Replacement Clinic is also known as "Arora Clinic" which is located at Hiranandani Meadows in Thane, within a very convenient proximity to Mumbai. Arora Clinic dedicated clinic for Knee Replacement surgery and all kinds of Orthopaedic treatments and surgeries
The Arora Clinic is one of the most advanced Orthopaedic clinic in Thane region and dedicated to providing the best, personalised healthcare with a breadth of surgical and medical expertise. Arora Clinic offers the modern surgical treatments like "Minimally Invasive Knee Replacement Surgery" which is also called as "PAIN-LESS SURGERY" for any complex knee diseases.
Dr. Bakul Arora is a Consultant Joint Replacement & Orthopaedic Surgeon is one of the leading Knee Replacement Surgeon in Thane and Mumbai with over 4000+ successfully surgeries. Dr. Bakul Arora specialises in Mini-invasive techniques which offer multiple benefits to patients. He does the surgery using Subvastus approach for Knee Replacement surgery and Direct Anterior Approach for Hip replacement Surgery . This new techniques has many advantages for patients like its pain-less , stich-less surgery, patients walks on the same day after surgery, no blood loss, faster recovery etc.
Patients Review on Arora Clinic
International Patients Videos
Before and After Knee Replacement Surgery
⇒ Wockhardt Hospital Mumbai Central, Mira road & Vashi
⇒ Apollo Spectra Hospital, Tardeo and Chembur
⇒ Cloud 9 Hospital, Malad
⇒ Criticare Hospital, Andheri
⇒ Arora Clinic, Hiranandani Meadows
⇒ Bethany Hospital, Vasant Vihar
⇒ Currae Hospital, Kapurbawdi
⇒ Horizon Hospital, Ghodbunder
⇒ Infinity Hospital, Majiwada
⇒ Lakecity Hospital, Khopat
⇒ Oscar Hospital, Majiwada
⇒ Drone Hospital, Bhiwandi