How Robotic Technology Enhances Precision & Accuracy In Knee Replacement Surgery
Advancements in robotic technology have revolutionized the field of orthopedic surgery, particularly in knee replacement procedures. Robotic-assisted surgery has proven to be a game-changer, significantly enhancing precision and accuracy in knee replacement surgeries. By combining the expertise of the surgeon with the capabilities of robotic systems, patients can experience improved surgical outcomes, reduced pain, and faster recovery times. This blog post explores how robotic technology is transforming knee replacement surgery and the benefits it brings to both patients and Robotic Knee Replacement Surgeon..
Robotic technology in knee replacement surgery begins with the precise preoperative planning process. Through advanced imaging techniques, such as computed tomography (CT) scans or magnetic resonance imaging (MRI), three-dimensional models of the patient's knee joint are created. This allows Knee Replacement surgeons to analyze the joint's anatomy in detail, identifying any deformities or irregularities that may affect the surgical approach. By using robotic systems, surgeons can simulate the surgery in a virtual environment, allowing for better planning and customized implant selection tailored to the patient's unique anatomy.
Enhanced Surgical Precision
During the actual surgery, robotic systems provide unparalleled precision. The surgeon guides the robotic arm, which is equipped with specialized instruments, to perform precise cuts and movements. The robotic system provides real-time feedback, allowing the surgeon to make accurate adjustments and ensure optimal alignment and positioning of the implant components. This level of precision helps minimize errors and improves the overall longevity and function of the knee replacement.
Customization for Individual Patients
Every patient's knee joint is unique, and robotic technology allows for a higher degree of customization in knee replacement surgery. The preoperative planning and simulation process enable surgeons to create a personalized surgical plan for each patient, tailoring the procedure to their specific needs. By precisely aligning and positioning the implant components, robotic systems help optimize joint mechanics and reduce the risk of implant-related complications, such as implant loosening or instability.
Real-time Feedback and Navigation
One of the key advantages of robotic-assisted surgery is the ability to provide real-time feedback and navigation. The robotic system continuously monitors the surgical site, providing the surgeon with detailed information about the patient's anatomy and the progress of the procedure. This feedback allows the surgeon to make informed decisions and make necessary adjustments during the surgery. Additionally, robotic systems can detect any deviations from the planned surgical path, providing an additional layer of safety and accuracy.
Minimally Invasive Approach
Robotic technology facilitates a minimally invasive approach to Robotic knee replacement surgery. The robotic systems can operate through smaller incisions, resulting in reduced tissue damage, less blood loss, and faster recovery times for patients. The smaller incisions also contribute to better cosmetic outcomes and a lower risk of complications, such as infection and scarring.
Improved Patient Outcomes
The precision and accuracy offered by robotic-assisted knee replacement surgery ultimately lead to improved patient outcomes. Patients who undergo robotic-assisted procedures typically experience reduced pain, faster recovery, and improved joint function. The customized approach ensures better alignment and stability of the implant, resulting in a more natural-feeling knee and improved range of motion. Moreover, the shorter hospital stays and quicker rehabilitation associated with robotic technology lead to enhanced patient satisfaction and a faster return to daily activities.
Robotic Knee Replacement Surgery technology has brought significant advancements to the field of knee replacement surgery, enhancing precision and accuracy to unprecedented levels. By combining the skills of Orthopedic Surgeon in Thane  with the capabilities of robotic systems, patients can benefit from customized procedures, improved surgical outcomes, and faster recovery times. As technology continues to advance, it is expected that robotic assisted surgery in Thane  will become even more widespread, further revolutionizing the field and improving the lives of countless individuals in need of knee replacement surgery.
If you are looking for Robotic Knee Replacement Surgery in thane , Feel free to Contact Dr. Bakul Arora at Arora Clinic.
Robotic technology provides real-time feedback and precision during knee replacement surgery. Surgeons use a robotic arm with specialized instruments to ensure accurate alignment and positioning of implants, optimizing joint mechanics and reducing complications for better outcomes.
Yes, robotic systems allow surgeons to create personalized surgical plans. Advanced imaging generates 3D models of the knee joint, enabling customization of the procedure. This ensures optimal implant selection, alignment, and positioning for improved long-term results.
Robotic-assisted surgery uses smaller incisions, minimizing tissue damage, blood loss, and scarring. The robotic system operates through these smaller incisions, resulting in faster recovery and lower risk of complications, improving patient experience.
Robotic-assisted knee replacement offers reduced pain, faster recovery, improved joint function, and enhanced range of motion. Precision and accuracy lead to better implant alignment, stability, and long-term outcomes, enhancing patient satisfaction.
Robotic-assisted knee replacement surgery is increasingly accessible in many healthcare facilities. While not universally available, the technology is advancing and becoming more popular. Surgeons specializing in joint replacement may offer robotic-assisted procedures, providing the benefits of precision, accuracy, and customization to patients.
Thank You "Times Group" for felicitating Arora Clinic for "Excellence in Patient Care"
We are really honored to receive this and we will continue to serve the society better than ever We aim to provide the world-class Knee/Hip Replacement Surgical (Minimal Invasive Surgery) treatment to every patient suffering from knee or hip pain and at the same time make their life pain-free and happy.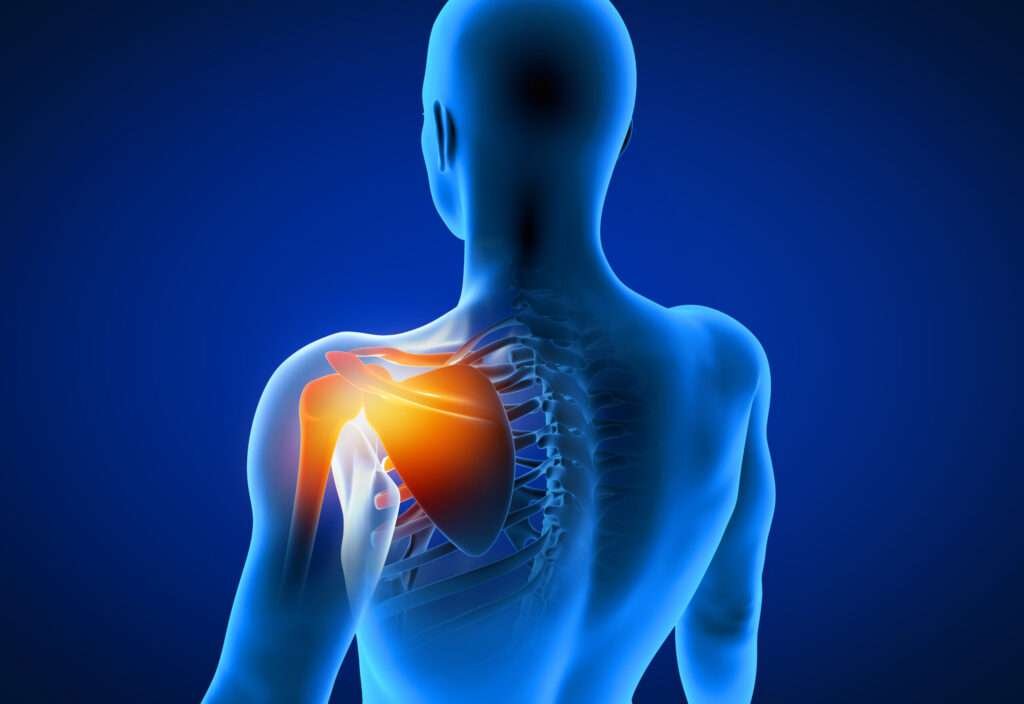 SHOULDER REPLACEMENT SURGERY
Are you looking for Best Knee Replacement Surgeon?
Then you are at Right Place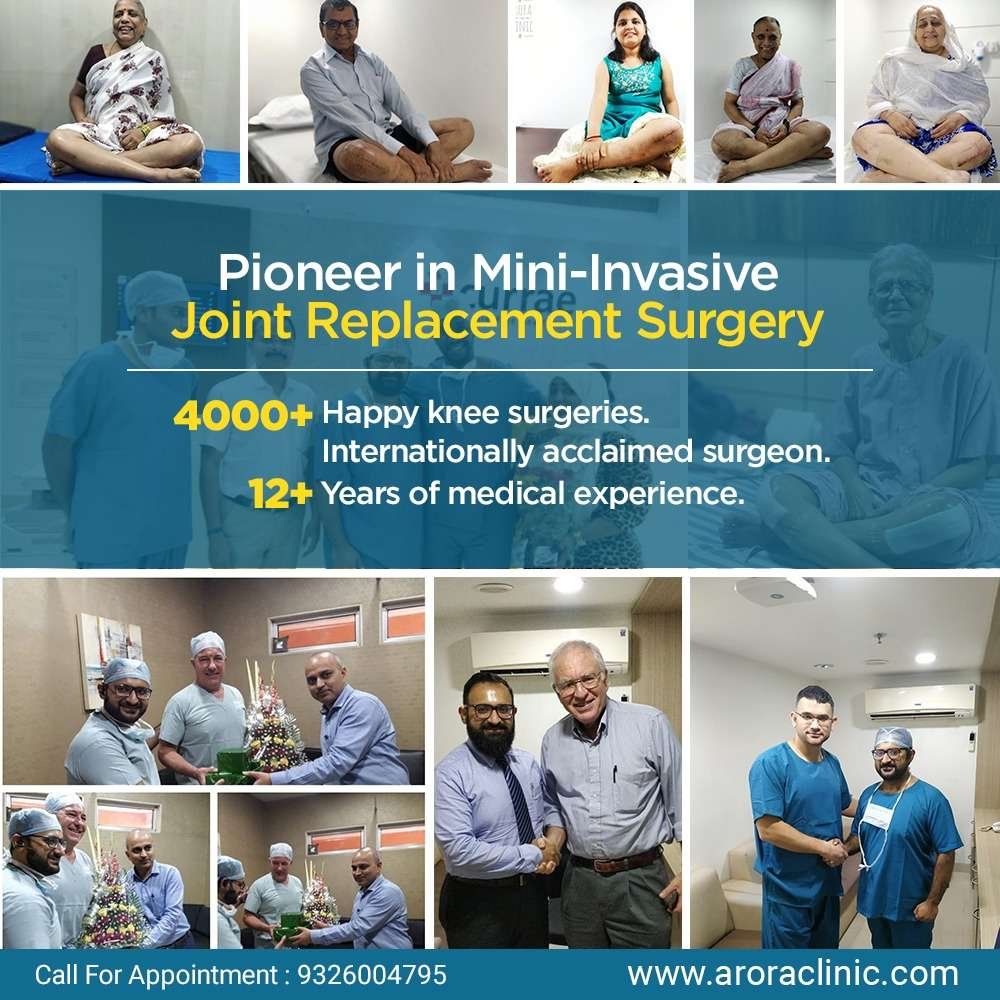 Dr. Bakul Arora's Joint Replacement Clinic is also known as "Arora Clinic" which is located at Hiranandani Meadows in Thane, within a very convenient proximity to Mumbai. Arora Clinic dedicated clinic for Knee Replacement surgery and all kinds of Orthopaedic treatments and surgeries
The Arora Clinic is one of the most advanced Orthopaedic clinic in Thane region and dedicated to providing the best, personalised healthcare with a breadth of surgical and medical expertise. Arora Clinic offers the modern surgical treatments like "Minimally Invasive Knee Replacement Surgery" which is also called as "PAIN-LESS SURGERY" for any complex knee diseases.
Dr. Bakul Arora is a Consultant Joint Replacement & Orthopaedic Surgeon is one of the leading Knee Replacement Surgeon in Thane and Mumbai with over 4000+ successfully surgeries. Dr. Bakul Arora specialises in Mini-invasive techniques which offer multiple benefits to patients. He does the surgery using Subvastus approach for Knee Replacement surgery and Direct Anterior Approach for Hip replacement Surgery . This new techniques has many advantages for patients like its pain-less , stich-less surgery, patients walks on the same day after surgery, no blood loss, faster recovery etc.
Patients Review on Arora Clinic
International Patients Videos
Before and After Knee Replacement Surgery
⇒ Wockhardt Hospital Mumbai Central, Mira road & Vashi
⇒ Apollo Spectra Hospital, Tardeo and Chembur
⇒ Cloud 9 Hospital, Malad
⇒ Criticare Hospital, Andheri
⇒ Arora Clinic, Hiranandani Meadows
⇒ Bethany Hospital, Vasant Vihar
⇒ Currae Hospital, Kapurbawdi
⇒ Horizon Hospital, Ghodbunder
⇒ Infinity Hospital, Majiwada
⇒ Lakecity Hospital, Khopat
⇒ Oscar Hospital, Majiwada
⇒ Drone Hospital, Bhiwandi